The kiddie tax – not just for kiddies anymore
A 1986 law meant to curb tax avoidance by wealthy parents can cause unintended consequences for college students (and their parents) who don't know the rules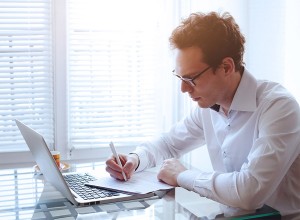 Editor's note: Under the 2017 Tax Cuts and Jobs Act, the "kiddie tax" provisions are modified for tax years beginning after December 31st, 2017. Under the new law, a child's taxable earned income is taxed at the rate for single individuals, and the taxable income attributable to a child's net unearned income is taxed at the rates for trusts and estates. The new rules apply to both the child's ordinary income and other income taxed at preferential rates.
Unless further IRS guidance is issued, the rules detailing who the kiddie tax applies to and what is "unearned" income detailed in this article are still in effect. For the 2018 tax year, if the rules apply, then the net unearned income of a child is taxed at the parents' rates if the parents' rates were higher than the child's. The remaining earned income plus unearned income of $2,100 (for 2018), minus the child's standard deduction, is taxed at the child's single individual rate.
Meet Jeff and Jack – both 20 years old, college roommates, friends since childhood. Jeff and Jack are well-aware of the mounting student loan debt that many young adults face. So they are determined to support themselves and live within their means while they're in college. To that end, they enrolled in a local community college and share a nearby apartment, with plans to transfer to a traditional university after two years.
During the year, Jeff and Jack each made about $20,000. Together, this was more than enough to cover their living expenses and pay tuition. They were even able to save a bit for the out-of-town colleges they're headed to next year. Jeff earned all of his income from his part-time job. Jack received some unemployment compensation and monthly survivor's benefits from his late mother's pension.
Jeff and Jack feel financially responsible as they steadily progress on their plans for college and beyond.
It was at tax time, however, that the experiences of these two similar friends diverged.
When Jeff completed his tax return, he was pleasantly surprised. He had expected to get a refund, but thanks to the American Opportunity Credit (AOC), his refund was even better than he'd hoped, at $1,550.
Jack had a surprise, too. Even though his income, withholding, and AOC were similar to Jeff's, he did not get a federal tax refund. In fact, he had to pay more than $500 to the IRS.
Why the difference? It's because Jack had no idea he would be subject to the "kiddie tax."
What is the kiddie tax?
The kiddie tax, which has been around since 1986, was designed to prevent tax avoidance by wealthy parents who were transferring investments to their children. Parents did this because their children would likely pay much lower tax rates on the income.
Suppose, for instance, that a parent hoping to avoid paying high rates on investment income transfers stocks to a young child. The child, with no job or earnings, would probably be in one of the low tax brackets. But now, as a result of the kiddie tax, the child will pay tax on the income at the same tax rate as his parents.
But what does all that have to do with Jack? His parents didn't transfer anything to him, and he has no investments. The reason Jack is subject to the kiddie tax is because he had unearned income, rather than wages or other earned income.
Unearned income is, quite simply, any taxable income that is not derived from working. That can mean:
Unemployment and pension benefits
Taxable Social Security
Some kinds of taxable scholarships
IRA distributions
Alimony
All types of investment income such as dividends, interest, and capital gain
The kiddie tax can have several effects. As explained above, children who are affected by the kiddie tax will pay taxes at their parents' tax rate (or at the trust and estate tax rate for tax years 2018 through 2025) on any unearned income over a certain threshold. These children are also more vulnerable to the alternative minimum tax (AMT), which is basically a surtax that applies to higher-income taxpayers that can create substantial additional taxes.
The kiddie tax is not just for kids anymore
Although this tax is still commonly called the kiddie tax, legislation enacted in 2006 and 2007 raised the age limit to apply to individuals up to age 24.
As in Jack's case, the kiddie tax can apply more widely than many taxpayers expect. It can potentially affect any college student who:
Is younger than 24
Has at least one living parent
Does not file a joint return
Does not provide more than half of his or her own support through earned income
Jeff, who earned wages at his job, wasn't subject to the kiddie tax because his income was earned. So, while neither of these self-supporting young adults is a dependent, Jack doesn't escape the kiddie tax. Jack owes tax on his income at his father's 33 percent rate, and he has to pay the AMT.
Jack's options
Before tax time, Jack considered himself lucky because he did not need to work while he went to school. However, if Jack gets a part-time job and earns enough to pay more than half of his own support with his earned income, he would avoid the kiddie tax.
On the other hand, Jack might attend a more expensive school next year. If so, he'll need more to support himself. It may be very difficult for him to provide more than half of his support through earned income while he's in school. It's possible that Jack wouldn't be able to avoid the kiddie tax until he leaves school, gets married, or turns 24.
The bottom line is, the kiddie tax can be unexpected and can result in financial consequences for young adults in college. Taxpayers and their advisors should take careful inventory of the sources of income and types of support going to college students to determine whether the kiddie tax could come into play.