New guidance explains SECURE Act provisions
IRS guidance on the SECURE Act addresses post age 70½ IRA contributions, qualified birth and adoption distributions, and a new small business tax credit.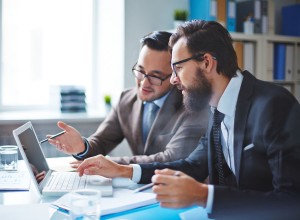 The IRS issued Notice 2020-68 providing guidance on various aspects of the SECURE Act of 2019. Guidance is in the form of questions and answers on each of the covered topics. SECURE Act provisions generally apply after December 31, 2019.
Small business automatic enrollment credit
New §45T provides a business credit for eligible employers who set up an eligible automatic contribution arrangement (EACA) for their employees. The new credit applies to tax years beginning after December 31, 2019. Generally, an automatic enrollment plan allows an employer to deduct elective deferrals such as 401(k) contributions automatically unless the employee opts out. An EACA applies a specific uniform percentage to automatic contributions following notice to the employee and may allow employees to withdraw contributions and earnings within 90 days of the first contribution.
An eligible employer is one that had no more than 100 employees who received $5,000 or more in compensation during the preceding year. The credit is equal to $500 for each year of the employer's credit period. The credit period is a period of three taxable years starting with the first year in which an eligible employer includes an EACA in a qualified employer plan.
For example, if an employer first includes an EACA for tax year 2020 and includes an EACA for tax years 2021 and 2022, the employer may claim the credit for each of those years. In contrast, if the employer first includes an EACA in tax year 2020, skips 2021, and again includes the same EACA in tax years 2022 through 2023, the employer may claim the credit only for tax years 2020 and 2022. Thus, the credit period cannot extend after the three years are up. Put another way, to receive a credit for each year of the credit period the employer must provide the EACA for each year of the period.
Post age 70½ traditional IRA contributions
Prior to the SECURE Act individuals were not permitted to make traditional IRA contributions starting in the year they turned age 70½ and in subsequent years. The SECURE Act removed this restriction, allowing working taxpayers to continue to contribute to IRAs and deduct the contributions if eligible. Individuals may not offset required minimum distributions (RMDs) with IRA contributions. That is, an RMD and a contribution are two separate transactions that a financial institution must report separately to the individual who, in turn, reports them separately on their income tax return.
While working taxpayers may continue to make deductible IRA contributions after they turn 70½, they cannot fully offset RMDs with qualified charitable distributions (QCDs). The excludable portion of a QCD is reduced (but not below $0) by:
All IRA deductions allowed for all years ending on or after the date the taxpayer turns 70½, less
All QCD reductions for all years preceding the current year.
For example, in 2021 and 2022 an individual makes a deductible IRA contribution of $2,000 and a QCD of $3,000 each year. Assume the individual turned 70½ before 2020 and made no previous post 70½ IRA contributions or QCDs.
The excludable portion of the 2021 QCD is $1,000:

$2,000 deductible IRA contribution – $0 prior year QCD reductions = $2,000 QCD reduction for 2021.
$3,000 QCD – $2,000 reduction = $1,000 QCD allowed for 2021.

In 2022, the excludable portion of the QCD is again $1,000:

$4,000 cumulative IRA contributions – $2,000 prior year QCD reduction = $2,000 QCD reduction for 2022.
$3,000 QCD – $2,000 QCD reduction = $1,000 QCD allowed for 2022.
Thus for 2021 and 2022 the individual can reduce any RMDs by only $1,000 each year. The QCD reductions (non-excludable portions) are included in gross income.
Note that if the individual itemizes, the non-excludable portions of the QCDs are deductible on Schedule A as charitable donations subject to the usual rules. See the notice and TAX in the News September 2, 2020 for more comprehensive examples.
Qualified birth or adoption distributions
The 10% additional tax (aka early distribution penalty) does not apply to a qualified birth or adoption distribution. A qualified birth or adoption distribution is defined as any distribution up to $5,000 made from an applicable eligible retirement plan made during the one-year period beginning on the date in which the individual's child is born or the adoption of an eligible adoptee is finalized. An eligible adoptee is any individual (other than the child of a taxpayer's spouse) who is under 18 or physically or mentally incapable of self-support. Applicable eligible retirement plans include IRAs and most employer plans other than defined benefit plans.
Each parent may receive a qualified birth or adoption distribution with respect to the same child or adoptee. Also, a parent may receive qualified birth or adoption distributions with respect to the birth or adoption of more than one child. For instance, an individual who gives birth to twins may take two qualified birth distributions within the same one-year timeframe.
Although qualified birth or adoption distributions are not subject to additional tax, the regular rules for income tax on retirement plan and IRA distributions apply. The individual must include the child's name, age, and TIN on the tax return for the year in which the distribution is made.
If the plan allows qualified birth or adoption distributions, an individual may recontribute up to the entire amount of a qualified birth or adoption distribution to the applicable eligible retirement plan in which the individual is a beneficiary. The recontribution does not count toward the one rollover per year limitation. The Treasury Department and IRS intend to issue regulations addressing the recontribution rules.
Difficulty-of-care payments
Difficulty-of-care payments are compensation paid for providing additional care required for physically, mentally, or emotionally handicapped qualified foster individuals. A state must determine that the care is needed, and care must be provided in the caregiver's home. Payments are excludable from tax unless they're provided for more than 10 individuals under age 19 or five individuals age 19 or older.
The SECURE Act allows taxpayers who receive difficulty-of-care payments from their employer to include the payments in compensation for purposes of non-deductible IRA contributions. If the employer maintains a qualified plan, the plan may be amended to permit the employee to make after-tax contributions to the plan. The change applies to contributions made after December 20, 2019. Difficulty-of-care payments received from a person other than the taxpayer's employer are not treated as compensation for this purpose.
Other guidance in Notice 2020-68
Notice 2020-68 addresses other SECURE Act and late 2019 legislative provisions, summarized below. See the notice for more details on these provisions.
Long-term part-time employees. Long-term part-time employees who work 500 hours per year for at least three consecutive years and who are at least age 21 may participate in qualified employer plans. The participation date is the earlier of the first day of the plan year beginning after the service and age requirements are met or six months after the date both requirements are met. Employers are not required to provide matching contributions.
In-service distributions. The minimum age for receiving in-service distributions from an employer plan is reduced from age 62 to age 59½. The change applies to plan years after December 31, 2019.
Plan amendments. Employer plans must be amended to adopt SECURE Act changes. Plans amendments must generally be adopted no later than the first plan year beginning on or after January 1, 2022 and apply retroactively to the effective date of the SECURE Act provision.