Reduced AMT exemption for kiddie tax is suspended
The special AMT exemption that applied to children subject to the kiddie tax is temporarily suspended, generally providing a much higher exemption amount.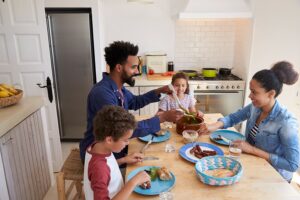 In New kiddie tax worksheets we covered a change made to the kiddie tax by the SECURE Act of 2019. The Act repealed a TCJA provision which taxed net unearned income of children at trust and estate rates. The change applies starting in tax year 2020, but taxpayers may choose to apply it in 2018 and/or 2019. That means taxpayers may figure the kiddie tax using the child's parent's rate (the optional calculation) instead of using trust and estate rates (the default calculation) if it results in lower tax.
The SECURE Act made another significant change to the kiddie tax: it temporarily suspends the special lower kiddie tax AMT exemption for those subject to kiddie tax. The change is retroactive to 2018.
Background on the kiddie tax and AMT before 2018
Besides the kiddie tax itself, a limited kiddie tax AMT exemption applied to "certain children under age 24," i.e. children subject to the kiddie tax. For tax year 2017, the exemption was $7,500 plus earned income. The limited AMT exemption applied if the child was subject to kiddie tax, even if the child didn't actually pay kiddie tax and even if the child was not a dependent.
Example: In 2017, Elizabeth was a 19-year old full-time student at a community college, living in a nearby apartment she shares with two friends. She supported herself through monthly survivor's benefits paid from her late mother's pension and a small amount of investment income, for a total of about $18,000. Her father did not have a filing requirement because his income was very low that year, and she did not pay kiddie tax. However, Elizabeth paid AMT of $1,970, figured as follows:
$7,600 regular taxable income ($18,000 income - $6,350 standard deduction - $4,050 personal exemption)
$760 regular tax (taxable income × 10%)
$18,000 alternative minimum taxable income (taxable income + $6,350 + $4,050)
$2,730 tentative minimum tax (AMTI - $7,500 AMT exemption × 26%)
$1,970 AMT (tentative minimum tax - regular tax)
Note that it didn't matter that Elizabeth didn't pay kiddie tax; she just had to be subject to it. Given the same circumstances in 2018 and 2019, absent the change in law, Elizabeth would again have paid AMT as she would be subject to the reduced exemption amount.
SECURE Act suspends the limited AMT exemption starting in 2018
The TCJA increased AMT exemptions for tax years 2018 through 2025 but made no changes to the kiddie tax AMT exemption. Thus, children, who were subject to the kiddie tax because of unearned income continued to have a reduced AMT exemption amount. The SECURE Act makes an additional modification to the AMT. It makes inapplicable or suspends the limited AMT exemption that applies to children who are subject to the kiddie tax. For these years, children who are subject to the kiddie tax figure their AMT exemption the same way that any other individual taxpayer would figure it.
The SECURE Act AMT modification applies retroactively to tax year 2018. Continuing with the same example, Elizabeth's AMT exemption would thus be $70,300 in 2018 and $71,700 in 2019 (rather than the $7,600 and $7,750 that would have applied without the change), effectively eliminating AMT for her.
The 2019 Instructions for Form 6251, Alternative Minimum Tax-Individuals, have been modified for the SECURE Act change. The updated 2018 Form 6251 instructions are currently in draft and expected to be released soon. Taxpayers such as Elizabeth who paid AMT in 2018 because of the limited AMT exemption for children subject to kiddie tax should consider amending to claim a refund.
What changed (and what didn't)
Bear in mind that the SECURE Act:
permanently modified the kiddie tax (see New kiddie tax worksheets), and
temporarily suspended the special AMT exemption for 2018 through 2025.
The SECURE Act did not eliminate the kiddie tax itself. For instance, Elizabeth's father's financial circumstances could change for the better during the time she is still under 24 and a full-time student. If that happens, Elizabeth could pay kiddie tax even if she does not pay AMT.