Is income a dependent earns from tutoring self-employment income?
Question of the week: Is income earned by a teenage dependent self-employment income? Does the teen have to file a return and pay self-employment tax?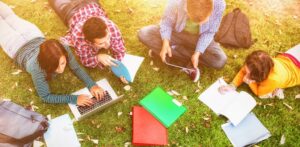 Q. Will a dependent's earnings from tutoring be subject to self-employment tax? If so, must she file her own tax return?
Our clients Marc and Beth have one dependent, their daughter Eloise, who is a high school junior and honor student. During the pandemic, in addition to her own online schoolwork, Eloise has been tutoring math and science. She expects to earn about $2,000 in 2020. She tutors the students virtually from her home often and has kept careful track of all her earnings and expenses. Is the tutoring money a dependent earns self-employment income and, if so, must Eloise pay self-employment tax? Eloise is 16 years old and otherwise has only about $30 from dividends and interest. In some years she's had enough investment income for Marc and Beth to include it on their return and pay kiddie tax. Would they be able to include Eloise's income on their return this year or must she file her own return?
A. If the dependent is making decisions about her tutoring services, including clients and fees, she is likely subject to self-employment tax. In that case, she will need to file her own tax return.
From the information you've given, it is likely that the dependent Eloise must file her own tax return and pay self-employment tax.
For tax year 2020, a dependent must file a tax return if any of the following are true:
Unearned income is more than $1,100
Earned income is more than $12,400
Gross income is more than the larger of $1,100 or earned income plus $350.
For Eloise, unearned income is only $30 and earned income is only $2,000, so neither of the first two conditions is met. Her gross income is $2,030, which is not more than $2,350 (the larger of $1,100 or earned income plus $350), so the third condition isn't met either.
Whether she'll have a filing requirement will hinge on whether her income is self-employment income. The fact that she's a dependent isn't relevant for this analysis.
To determine whether an individual, no matter her age, is an employee or an independent contractor, consider all the information that provides evidence of the degree of control and independence. Generally, factors that indicate whether an individual is an employee or self-employed fall into three categories:
behavioral control,
financial control, and
the type of relationship of the parties.
For example, if Eloise finds students to tutor on her own, and decides when, where, and how to provide her tutoring services as well as how much to charge for them, then it's likely she is self-employed. In that case, assuming her net profit is more than $400, she will have to pay self-employment tax and thus have a tax return filing requirement.
For more information, see "When taxpayers see a side hustle, the IRS may see a hobby"
A parent's option to report their child's income on their return applies only to dividends (including capital gain distributions) and interest and not to other types of income. Eloise will have to file her own return and report her self-employment income on Schedule C and self-employment tax on Schedule SE.
This year there will not be any kiddie tax on her small amount of unearned income. If unearned income had been more than $2,200 (for 2020) she would also will need to file Form 8615, Tax for Certain Children Who Have Unearned Income, to calculate any kiddie tax on the unearned portion of her income.
If Eloise continues to tutor and her income increases substantially, it might be advisable to make quarterly estimated payments to avoid penalties.