How much can a parent expect to receive for the child tax credit in 2021?
A noncustodial parent, who claims his two children on his tax return, is interested in the changes made to the child tax credit for 2021.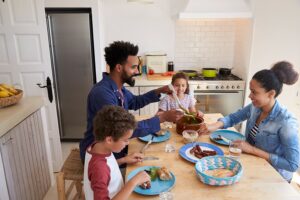 Q. How much will a divorced father of two with a signed Form 8332 get for the child tax credit and will it be advanced?
Hector is a divorced father who claims his two children, ages 4 and 7, on his tax return. The children live with their mother close by in our town. Both the children and parents lived in the U.S. all year. She has given him a signed Form 8332. In 2020 Hector earned $85,000. He files as single. How much of a child tax credit can Hector expect for 2021? Will it be advanced to him and, if so, what happens if his 2021 earnings are different? He received a bonus in 2020 and expects a bonus in 2021, but doesn't know if it will be more, less, or about the same.
A. For 2021, the credit is $3,000 per qualifying child ($3,600 if 5 or younger). One-half of the expected CTC will be advanced, starting this summer.
The American Rescue Plan Act (ARPA) makes several temporary changes to the child tax credit (CTC) for 2021 only. Under the ARPA:
The CTC increases from $2,000 to $3,600 for each qualifying child under age 6 and to $3,000 for each qualifying child age 6 to 17. Thus, the CTC is available until the year the child turns 18. Otherwise, the requirements to claim the CTC are the same including, as in Hector's case, the rules for divorced and separated parents.
For residents of the U.S. and Puerto Rico, the 2021 CTC is fully refundable. In other words, a taxpayer with little or no earned income would get an ACTC of $3,600 or $3,000 per qualifying child.
Starting in July 2021, the IRS will begin advancing one-half of the expected CTC for 2021 in equal monthly payments. Taxpayers will have an opportunity to opt out of advances. The advance CTC will be reconciled with the actual CTC on the taxpayer's 2021 return filed in 2022. At that time the taxpayer will receive any additional CTC due or repay any excess advance. If the excess is due to claiming fewer children in 2021, repayment will be limited for lower-income taxpayers. More information will be available later on in the year about the CTC advances, opting out, and reconciliation.
For taxpayers with income over certain thresholds, the CTC phases out in two steps. Over one income level the CTC is reduced to the pre-2021 rate of $2,000 per child. Over the next income level, the CTC is reduced until it reaches $0. The double phaseout is explained next.
How the phaseout of the 2021 CTC works
One way to compute the phaseout is to divide the CTC into two parts: the "expanded" and the "regular" segments. The regular segment is $2,000 per qualifying child, i.e. the pre-2021 amount. The expanded segment is the balance of the CTC.
For Hector, these amounts are:
$6,600 total maximum CTC ($3,600 + $3,000)
$4,000 maximum regular segment ($2,000 per qualifying child)
$2,600 maximum expanded segment
The expanded segment phases out by 5% of AGI over the applicable threshold. For a single filer, the threshold is $75,000 (see below for the thresholds for other filing statuses).
The phaseout amount for Hector is $500 [($85,000 AGI - $75,000 threshold) × 5%]
Hector's total expected CTC is $6,100 ($6,600 - $500 phaseout amount).
As explained earlier, based on 2020 income, one-half of Hector's expected 2021 CTC, $3,050, will be advanced to him based on his 2020 income unless he opts out. His 2021 income would need to climb considerably for him to wind up with an actual CTC of less than $3,050. For instance, his AGI would need to reach $127,000 for the expanded part of the CTC, $2,600, to fully phase out.
[($127,000 AGI - $75,000 threshold) × 5%] = $2,600
If this should happen, he would still be left with the "regular" CTC of $4,000. The CTC would then phase out under the pre-2021 rules, i.e. 5% of AGI over the threshold amount of $200,000 for a single filer.
When the IRS prepares to start advance payments and taxpayers are given the chance to opt-out, it's a good idea for taxpayers like Hector to check on their current income and understand how advance payments may impact their overall tax withholding and tax liability for 2021.
Adjusted gross income for CTC phaseout thresholds
Expanded CTC phaseout begins:
$75,000 single
$112,500 HH
$150,000 QW
$150,000 MFJ
$75,000 MFS
Regular CTC phaseout begins:
$200,000 single
$200,000 HH
$200,000 QW
$400,000 MFJ
$200,000 MFS
For more information on the 2021 CTC advances, see our Tax Research Center article: "How does the advance of the child tax credit for 2021 work?"
For illustrative phaseouts, see Child and Family Credit Phaseouts and Inflation Adjusted Amounts Chart.