Showtime: Taxes in the movies
This awards season, take a look back at movies that feature taxes in their plots. Warning: potential decades-old spoilers ahead.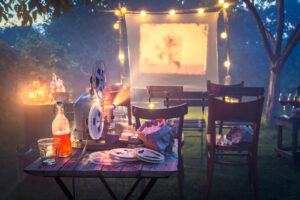 With the Academy Awards just around the corner, many people are currently predicting which of their favorite films, actors, and lighting technicians are likely to take home the top prizes this year. While one might not automatically think of taxes and financial-related movie plot devices as a big draw at the box office, the number of films that mention them is surprisingly long. Read on to see how taxes go to the movies!
The Untouchables (1987)
This Brian De Palma classic features the "G-men" led by Eliot Ness (Kevin Costner) facing off against notorious gangster and baseball fan Al Capone (Robert De Niro). The film depicts Capone ruling Chicago with an iron fist; his payroll includes politicians, judges, and police officers. To take down this bootlegger and murderer, Ness' weapon of choice is…an accountant. Ness and his allies use the Internal Revenue Code to make a case against Capone for income tax evasion. Eventually, Capone is forced to plead guilty, because while he was good at spending money, he was not so good at reporting his earnings to Uncle Sam and ended up spending time in prison for tax evasion.
The Shawshank Redemption (1994)
Speaking of prison, this film, adapted from a Stephen King short story, featured as its protagonist a banker wrongfully convicted of murdering his wife. That banker, Andy Dufresne (Tim Robbins), is just another convict until the prison staff becomes aware of his highly-useful financial skills, including his substantial knowledge about taxes. In one great scene, he hears that a guard (Clancy Brown) is about to inherit a large sum, but he's more concerned about the taxes he will pay as a result. Andy then asks the guard if he trusts his wife, and almost gets thrown off a roof for his trouble until he reveals that by transferring the winnings to his wife he can avoid that tax bill. After this revelation, he becomes the go-to tax pro for Maine state prison employees.
Note that this inheritance rule, while it may have existed in the Golden Age of Hollywood, no longer applies. The federal government doesn't impose an inheritance tax, and allows unlimited tax-free gifts between U.S. citizen spouses.
Happy Gilmore (1996)
Here, mediocre hockey player Happy (Adam Sandler) is forced to find his true calling in golf when the IRS places a lien on his beloved grandmother's house. This film helps us learn that being "too old" is not an acceptable defense for failure to pay back taxes. Read more about other "frivolous" tax arguments in the Insights article, "Tales from the Tax Court: You can't do that. 'Frivolous' tax arguments won't stand up to IRS scrutiny."
The Day after Tomorrow (2004)
There's a short but poignant reference to taxes in this blockbuster. Several people are stranded in the New York Public Library, and they need to keep a fire going to stay alive. In order to kindle the fire, they start tearing up and burning books, but some members of the library staff protest. Eventually, they all agree that the Income Tax Code is acceptable to burn, and a crisis is averted. In the movies, taxes save lives!
The Descendants (2011)
The plot for this award-nominated film heavily features a little-known quirk in the law called the "rule against perpetuities." In the film, Matt King (George Clooney) is the trustee of a trust established many generations prior that is about to dissolve based on this arcane rule. He must decide whether or not to sell the land to investors who hope to develop a resort on the property. A sale would generate a massive amount of income for the family but may go against the original intentions of the trust creators.
Other notable films featuring taxes in their plots
This is by no means an exhaustive list. Some other tax films of note include Robin Hood (several versions), The Young Philadelphians (1959), The Blues Brothers (1980), Say Anything (1989), The Firm (1993), Stranger than Fiction (2006), and Dinner for Schmucks (2010).