Spoiler alert: Television families demonstrate complex tax situations
How would the fictional families of Modern Family file returns?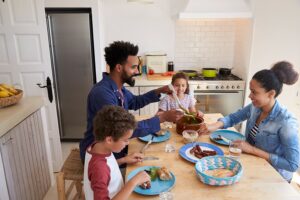 Editor's note: The following article contains several spoilers for the show Modern Family. Viewer discretion is advised.
Everyday life tends to be different for tax practitioners. Imagine watching a game show. Casual viewers enjoy the show and are happy for the big winners, but tax professionals sometimes find themselves considering how a participant's winnings will affect their tax situation. Even prime time offerings, filled with interesting storylines and twists leave tax experts debating internally over which filing status a fictional couple will use and whether their kids qualify as dependents.
Take Modern Family, for example. The Emmy-winning, wildly successful ABC sitcom began in 2009 following Jay Pritchett and his extended family who live in a suburb of Los Angeles, California. The Pritchetts and their extended family offer some very interesting studies on filing status and dependency, especially through multiple seasons.
Jay and Gloria Pritchett and the custodial parent debacle
Jay Pritchett is married to Gloria Delgado Pritchett, his second wife. Their son, Fulgencio Joseph Pritchett ("Joe"), and Gloria's son, Manny Delgado, live with them. Jay and Gloria can either file married filing jointly or married filing separately. They can most likely claim Joe as a dependent without issue and Gloria is likely Manny's custodial parent, since Manny seems to spend more time with Jay and Gloria than his father, Javier Delgado.
Note: The Tax Cuts and Jobs Act (TCJA) of 2017 reduced the federal exemption amount to zero starting in 2018. However, many other tax benefits rely on the taxpayer's ability to claim the dependent. Dependents are listed on page one of a taxpayer's Form 1040.
Assuming that Gloria is the custodial parent, whether Manny would be a dependent on Jay and Gloria's tax return would depend on:
Gloria and Javier's divorce decree,
Whether Gloria has signed a Form 8332 giving Javier the right to claim Manny as a dependent, and
Other facts and circumstances. See "Children of divorced or separated parents" in 501, for more information.
Should Jay and Gloria decide to file separately, and if Gloria has the right to claim Manny, either Jay or Gloria would be allowed to claim both Joe and Manny, or they can be split in any way that Jay and Gloria decide. Jay can claim Manny on his separately filed return because step-children are a part of the definition of "relationship" necessary to be considered a qualifying child or dependent.
Phil and Claire Dunphy and their ever-changing dependents
Claire Dunphy, Jay and DeDe Pritchett's daughter (DeDe was Jay's first wife), is married to Phil Dunphy. Claire was a homemaker but started back to work in later seasons of the show. Claire and Phil have three children together, Haley, Alex, and Luke. Phil and Claire can file married filing jointly, or married filing separately, if they choose to do so. In the early seasons, they can claim all their children as dependents. However, as time goes on, the dependency of the children changes as circumstances change.
The simplest of their dependent situations lies with Luke, the youngest of the Dunphy children. Luke is a student in middle and high school as the show progresses. It seems clear that he is a dependent of Phil and Claire.
Alex and Haley Dunphy might not qualify as dependents in later seasons
In Season 7, Alex, the middle child, leaves for Caltech. In many cases, it can be difficult to determine if a full time college student under the age of 24 can be claimed as a dependent. Going away to a school is generally considered a temporary absence, so children who leave home for school are generally considered to have "lived" with their parents more than half of the year, even if they are living on or near campus.
However, the difficulty generally revolves around the support test. If the child paid more than half of their own support, through their own funds and loans, the parents cannot claim the child because the support test is not met. Scholarship funds are not counted in determining support for a qualifying child or qualifying relative, unless the individual is not the taxpayer's son, daughter, step-child, adopted child, or eligible foster child. For the Dunphys, Alex can be claimed as a dependent in her years as a high school student, but whether she can be claimed as a dependent once she enrolls in Caltech is a little more difficult to determine without more information.
Throughout the seasons of the show, the Dunphy's oldest child, Haley, moves out and back in, goes to college, gets kicked out of college, and goes back to college, and goes to work. Therefore, depending on the situation during the individual tax years, Haley likely can be claimed as a dependent by her parents for some years but perhaps not in others.
Children over the age of 18 and under 24, at the end of the tax year, must be considered a full-time student at least 5 months of the tax year to pass the qualifying child age test. Haley, with her tumultuous college career, may not have been a full-time student long enough to pass the "age test" during some tax years. Phil and Claire would have had to evaluate Haley's full-time student status, support, and income to determine if she would qualify as a dependent. (See 'Overview of the Rules for Claiming a Dependent' in Pub. 501.)
And the Dunphy grandchildren-to-be?
Haley is having twins. While most viewers are contemplating who the father is, tax professionals are also interested in who's going to be eligible to claim tax benefits for these adorable babies.
Haley claims the twins because they live with her
Assume Haley and the twins' father continue their current living arrangements: Haley living with Phil and Claire, and the twins' father living elsewhere, and that the twins live with Haley after they are born. Haley will have the first right to claim the children unless she qualifies as a dependent herself because someone who is a dependent of another taxpayer cannot have a tax dependent. Barring extreme circumstances, the twins will meet all the other tests to be her qualifying children.
The twins' father won't qualify to claim the kids unless he and Haley agree
The father of the children would need to live with the twins at least half the time they are alive during the tax year to meet the residency test for claiming them as dependents. Alternatively, if he and Haley live apart for the last six months of the year and they together provide over half of the support for the children, Haley can sign a Form 8332, Release of Claim to Exemption for Child by Custodial Parent, allowing him to claim the twins under the rules for children of divorced or separated parents (which includes parents who live apart from each other). If parents don't provide over half of a child's support, the requirements for using the rules for divorced and separated parents aren't met and a release of claim by the custodial parent cannot be used.
Phil and Claire might be able to claim the twins if their income is higher than the twins' parents
If Haley and the twins continue to live with Haley's parents, Phil and Claire may be able to claim the twins instead of Haley or their father. Phil and Claire's income must be higher than any parent who has the right to claim the kids. Also, Phil and Claire wouldn't be able to claim the children if Haley allowed their father to claim them by signing a Form 8332, Release of Claim to Exemption for Child by Custodial Parent. If the children are qualifying children of Haley or their father, they would have the highest right to claim the children even if Phil and Claire provided most of their support. See 'Qualifying Child of More than One Person' in Pub. 501 for more information.
Mitchell Pritchett, Cameron Tucker, and their adopted daughter
Mitchell, Jay and DeDe Pritchett's second child, and Cameron Tucker were married in 2014. Mitchell and Cameron have an adopted daughter, Lily. Lily was born in Vietnam and was adopted by Mitchell as a baby. An adopted child is generally treated the same as a biological child for tax purposes. So, Lily would be a qualifying child. Being born in Vietnam, Lily's adoption was a foreign adoption. While foreign adoptions qualify for the adoption credit, the adoption must be finalized before the credit is allowed.
On returns prior to their marriage in 2014, Cameron would have filed single and Mitchell could have filed single or head of household with Lily. And, because same-sex marriage was not legalized nationwide until June 26, 2015, Mitchell and Cameron would have had to file as single or head of household on their 2014 U.S. returns and then combine their income if they chose to file using the married filing jointly status on their California return. They could have also chosen to file separately in California. In 2015, Mitchell and Cameron would have been able to file both their federal and California tax returns jointly or chosen to file as married filing separately.
The characters in Modern Family and other television shows demonstrate the many personal factors tax practitioners must learn to determine a taxpayer's filing status and allowed dependents, not to mention the other benefits such as earned income credit, child and dependent care credit, or tuition credits, each with their own separate rules and requirements.
Tax professionals--click to access related TRC Resources: