Post-death tax planning for the unprepared, Part 1: Who is responsible for managing tax issues?
For post-death tax planning, the personal representative should identify the deceased person's assets, notify payers, and handle any financial or tax issues for the deceased.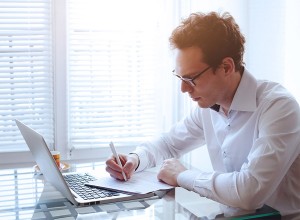 Death and taxes: the two guaranteed facets of life. People fear both, so many feel compelled to organize their affairs before they die, to ease the burden for their loved ones. Financial advisors, estate planners, tax professionals, and others can help people prepare for the inevitable and streamline the difficult tax-related situations that can happen after death. But what about post-death tax planning for the unprepared?
But there are still many times when someone dies and wasn't prepared. For surviving family members, trying to organize the deceased person's affairs can quickly become overwhelming. Worst of all, these headaches often come up while families are still trying to cope with the loss.
This article series will answer some of the common questions that survivors encounter when a loved one dies and may not have all of his or her affairs in order. This first article discusses some basic steps for taxpayers who find themselves taking care of a deceased person's tax filings. Having a basic awareness of the likely tax consequences and the proper steps to take can help relieve at least some of the stress that comes with the death of friends or family.
Here are the first steps to take to plan for an unprepared person's tax affairs post-death.
Identify the person responsible for handling post-death transactions and tax issues
Most people die owning assets, such as a home, bank accounts, stocks, bonds, and many other items. One of the main reasons people draft a will or set up an estate plan is to designate someone to help manage these assets after they die.
A will or other governing instrument (such as a living trust) may specify:
The identity of a fiduciary to control these assets, and
How the fiduciary should distribute these assets.
If a person dies without naming a specific fiduciary to handle post-death distributions, the "personal representative" bears primary responsibility for performing any required tax-related tasks. A named executor or court-appointed administrator will qualify as a personal representative.
When there is no named executor or court administrator, any person in control of the decedent's property qualifies as a personal representative. This person is often the closest surviving family member. For example, the surviving spouse typically serves as personal representative for a deceased husband or wife.
Identify assets to handle tax and financial affairs
The personal representative will need to perform several tasks.
File IRS Form 56
The personal representative should send Form 56, Notice Concerning Fiduciary Relationship, to the IRS. Form 56 notifies the IRS about the fiduciary relationship. Once the IRS receives this form, the IRS can provide the personal representative with the deceased person's prior tax information, upon request.
The form also authorizes the personal representative to sign a decedent's final individual return (Form 1040) and an estate income tax return (Form 1041), if they are required.
Inform financial stakeholders and retitle property
The personal representative should also inform various institutions that were paying income to the decedent or holding the decedent's assets that the individual has died. These parties may include:
Banks
Former employers
Retirement plan administrators
Many others
The personal representative will also need to retitle real property that the decedent owned to the person who inherited the property.
To inform payers and handle other tax and financial matters, the representative will need to present proof of death, which is often a copy of the death certificate. If the personal representative doesn't inform payers of the decedent's death properly or in a timely manner, the payers could incorrectly report income to the deceased person for periods after death. Incorrect income reporting can cause a beneficiary to omit post-death income, or to not receive credit for withholding, among other problems.
It's best to plan in advance as much as possible
Clearly, to perform all of this work, the personal representative must have some knowledge of the deceased person's financial situation. All of the requirements for the personal representative partly demonstrate why it's better for individuals to come up with a succession plan.
But even without a specific plan, a personal representative should be able to start wrapping up a deceased person's affairs after identifying all the deceased person's assets.
For more information on post-death tax planning for the unprepared, see Part 2 of this series which discusses what the personal representative does with all this income and asset information. Specifically, it will focus on the potential filing requirements.
Editor's note: This article has been reviewed for changes following the passage of the Tax Cuts and Jobs Act of 2017, Setting Every Community Up for Retirement Enhancement Act of 2019, and Coronavirus Aid, Relief, and Economic Security Act of 2020. The information provided in this article was not affected by the TCJA, the SECURE Act, or the CARES Act.
This article was originally published on January 16, 2017.