Certifying Acceptance Agents can help taxpayers apply for ITINs and keep their original documents
CAAs can attest to taxpayers' documents and identities, help navigate the application process, and address any IRS issues resulting from the application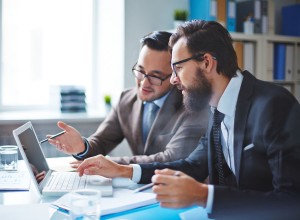 Editor's note: This article has been reviewed for changes following the passage of the 2017 Tax Cuts and Jobs Act. The information provided in this article was not affected by the 2017 TCJA.
When individuals need an identification number for federal tax reasons, but they don't have an SSN or aren't eligible to get one, they can use Individual Taxpayer Identification Numbers (ITINs).
Figuring out when and how to apply for an ITIN isn't always easy. Beginning in 2016, new rules mean that taxpayers' ITINs will now have an expiration date. And if ITIN holders don't renew their ITINs on schedule, the issue could snowball, delaying their refunds and preventing them from claiming certain tax credits until they renew their ITINs. The application/renewal process could take from 90 to 120 days to complete.
Taxpayers who need to apply for or renew an ITIN can get help from several types of professionals, including tax preparers and Acceptance Agents (AAs). The IRS approves AAs to help taxpayers get ITINs. Under the same program, the IRS also approves Certifying Acceptance Agents (CAAs), who assume a greater responsibility in helping taxpayers apply for ITINs.
Here is a chart comparing how AAs, CAAs, and tax return preparers can help taxpayers apply for ITINs.
How CAAs help taxpayers
There are several practical benefits to using a CAA to help navigate the ITIN application process.
Taxpayers don't have to send the IRS their original documents
The ITIN application requires specific documentation that proves identity and foreign status. Taxpayers are increasingly wary of identity theft. They don't always want to turn over their identification and documentation to someone they don't know, or mail their original documents to the IRS. As IRS-authorized practitioners, CAAs can help take away some of that fear.
Instead of sending in original documents with ITIN applications, CAAs can mail copies of documents to the IRS for taxpayers and dependents. CAAs will complete Form W-7 COA, Certificate of Accuracy for IRS Individual Taxpayer Identification Number, attesting that they:
Reviewed all of the required documentation for the ITIN applicants
Ensured the completeness, authenticity and accuracy of the documentation, and
Verified the applicants' identities, in person or by video conferencing.
Taxpayers who don't use a CAA can visit an IRS Taxpayer Assistance Center to get in-person document verification, or they'll have to send in their original documents.
CAAs handle the application process
CAAs know the ITIN-application process. They can answer taxpayers' questions and help them complete their applications. CAAs will compile and send several forms listed in the application to the IRS for processing:
Form W-7, Application for IRS Individual Taxpayer Identification Number
Form W-7 COA, Certificate of Accuracy for IRS Individual Taxpayer Identification Number, along with required identity documentation
The tax return
CAAs are required to keep copies of all documentation they send to the IRS. The IRS will send the ITIN to the CAA, who will pass it on to the applicants.
CAAs can help address IRS notices related to the application
If taxpayers receive any IRS notices related to the ITIN application, CAAs can contact the IRS on taxpayers' behalf and help resolve any problems.
The most common notices taxpayers applying for an ITIN receive are:
CP566, which requests more information, such as a complete application or additional documents, to process the ITIN application.
CP567, which explains that the IRS rejected the ITIN application because of ineligibility, invalid documents, or because the IRS didn't get a reply to the first CP566 notice.
CAAs can use a dedicated hotline to contact the IRS about taxpayer ITIN applications and any resulting notices.
How individuals become CAAs
To become a CAA, individuals must either be covered under Circular 230, meaning they are regulated by the IRS as an enrolled agent, CPA, or attorney, or they must be a tax preparer with a Preparer Tax Identification Number (PTIN). To complete the CAA application, individuals must:
Submit fingerprints and pass a background check (enrolled agents, CPAs, and attorneys can submit a copy of their current credentials instead of fingerprints).
Complete an online training course on IRS.gov and obtain a completion certificate.
Complete a 7-hour forensic training course given by an IRS-approved vendor and obtain a completion certificate.
When applicants complete these requirements, they send their fingerprints/credentials, training completion certificates, and IRS Form 13551, Application to Participate in the IRS Acceptance Agent Program, to the IRS office in Austin, TX.
In addition to their personal information, CAA applicants must also include information about the business or organization where they work. The IRS approval process takes between 60 and 120 days.
Once the IRS approves applicants for the CAA program, the individuals can act as authorized representatives for taxpayers, reviewing documents and verifying taxpayer identification and authenticity of documents.
Tip: CAA status stays with the organization, not the individual
When the IRS approves someone as a CAA, the individual's status is associated with the business location he or she used on the CAA application forms. This way, the firm retains documentation from ITIN applications and will be available to help applicants resolve ITIN-related issues, even if individual CAAs move or retire.
Changes are coming to the program
The Protecting Americans from Tax Hikes (PATH) Act of 2015 called for the IRS to expand the Acceptance Agent program into a new program for community-based certified acceptance agents. Entities eligible to be community-based acceptance agents include financial institutions, colleges and universities, federal agencies, tax return preparers, and state and local governments, including state agencies responsible for vital records. The PATH Act also included many changes for ITIN holders.
For more information on ITINs and program changes, see the two previous articles in this series: