Share and share alike: When employees get part ownership in a company, they take the bad with the good
Owners don't always understand what happens when they make employees into partners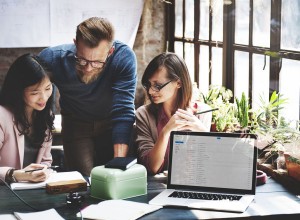 Editor's note: This article has been reviewed for changes following the passage of the 2017 Tax Cuts and Jobs Act. The information provided in this article was not affected by the 2017 TCJA. However, taxpayers considering changing from employees to partners should review the rules for the new qualified business income deduction (QBID). For more information on how the new qualified business income deduction rules affect partnership and self-employment income, see the TAX in the News QBID Special Edition.
Business partnerships sometimes look for creative ways to reward their managers and senior staff, instead of, or in addition to, raises and bonuses. Partners may decide to give employees a small percentage of the partnership itself so the employees can share in the profits.
The idea of sharing in the business's success may seem like the perfect reward to valuable employees. Partners don't always realize, though, that giving employees a share of the business can cause some major tax headaches down the road for the very people they're trying to reward.
Headache 1: "I didn't sign up to lose my status as an employee."
When employees get an interest in a partnership, they become partners. However small their interests, they can't be common law employees and partners in the same business.
Now that they're partners, the former employees no longer earn Form W-2 wages. Instead, they receive a share of the business's profits. They might also receive "guaranteed payments" for services they perform for the business. These payments may even be about the same amount they received as wages before they became partners.
But instead of simply reporting W-2 wages on Form 1040 (or even Form 1040-EZ), the now-partners receive Schedule K-1, which will surely complicate tax filing going forward. They must each report their share of partnership income and other partnership items on page 2 of Schedule E (Form 1040) and possibly on other forms or schedules. For instance, their share of a Section 179 deduction would have to be reported on Form 4562, Depreciation and Amortization.
Headache 2: "I don't want to deal with self-employment taxes."
Now that the employees are partners, the business no longer pays the employer's share of FICA taxes. That means the now-partners have to pay 15.3 percent self-employment taxes on their share of self-employment earnings from the partnership, rather than the 7.65 percent they paid as employees. The amount will likely include their share of business income, guaranteed payments, and any health insurance premiums that the company had paid for the employees before they became partners.
Because the former employees now receive business income instead of wages, they're responsible for making quarterly estimated tax payments, including estimated self-employment taxes. This is a far cry from receiving wages with automatic withholding of income and FICA taxes.
The bright side: As self-employed individuals, the now-partners can deduct half of their self-employment tax and possibly all of their health insurance premiums as adjustments to income on page 1 of Form 1040. These now-partners may also be able to take additional partnership deductions that they couldn't take as employees. For example, before they were partners, the employees' ability to deduct certain employee business expenses may have been limited because of the limitations on itemized deductions. Now, the partners can use the deductions to directly reduce their income and self-employment taxes.
There are other kinds of sharing
In the situation we've described, the partnership is sharing a profits interest. Partnerships could also give capital interests to staff members.
With a profits interest, employees generally won't owe tax just because the interest was transferred to them, as long as the transaction meets certain qualifications. Going forward, the partner would pay tax on his or her share of the profits, as explained above.
With a capital interest, the partner actually owns a percentage of the business assets. Capital interests are generally treated as taxable guaranteed payments when the partnership makes the transfer or when they become fully vested.
For more discussion of the tax consequences of giving interests to staff members, see "Contribution of Services" on page 9 of IRS Pub. 541, Partnerships. Also see "Property Received for Services" on page 6 of IRS Pub. 551, Basis of Assets, for information on how to determine the new partners' basis.
Best course: Document everything and consult an expert
Clearly, partners in a business have a lot to think about before granting partnership interests to employees, including the complicated tax situation that would result for the new partners. Also, there are other consequences for new partners, such as potential liability, however small, for partnership debts.
The partnership agreement should clearly document any decisions about changes in interests, how new partners would share in profits, losses, etc., and any other elections that might apply. The partnership may also want to consult an attorney for advice before proceeding.