Debts that make tax refunds disappear
The government takes refunds to collect five types of debt. Here's how it happens.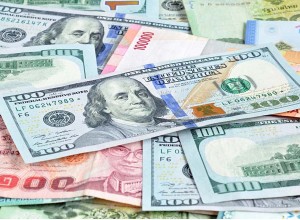 Sometimes, taxpayers don't receive their tax refunds as expected, even though they correctly filed their returns. This happens when the Treasury Offset Program (TOP) intercepts the refund and applies it to a delinquent debt.
In FY2015, the Treasury Department collected $7 billion through TOP. Here, we'll look at the types of debt the government collects using refunds.
Five types of debt trigger refund offsets
The government will take all or part of taxpayer refunds to satisfy these five types of debts. If there's anything left over, the government will refund that amount to the taxpayer. If the taxpayer owes more than one type of debt, the government will take them out of the refund in the following order:
1. Federal back taxes
Although back taxes aren't part of TOP, the IRS must first apply any refunds to unpaid federal tax debts.
Example: James didn't file a tax return in 2013. The IRS assessed the deficient taxes, penalties, and interest in 2015, but James didn't pay them. James now owes $1,000 in total, and his expected tax refund on his 2016 return is $2,000. The IRS takes $1,000 from James' refund to offset the $1,000 in back taxes, penalties, and interest. James will receive the remaining $1,000.
Taxpayers who owe back taxes and can't pay them can set up an installment agreement with the IRS or pursue other repayment alternatives. An enrolled agent, CPA, or attorney can help taxpayers resolve back taxes and unfiled returns with the IRS.
2. Delinquent child support debt
Here's how TOP collects back child support:
State child support agencies send the Treasury Department a list of people with delinquent child support payments.
These individuals receive a pre-offset notice showing the amount of past-due child support owed with an explanation that the government can use the individual's tax refund to pay the debt.
The program intercepts tax refunds from the individuals who owe back child support and sends the refunds to the state child support agency.
When the offset occurs, the individual who owes back child support receives a Notice of Offset.
This process can take three to five weeks. Only cases receiving full services through a state child support enforcement agency are eligible for TOP. In some states, the custodial parent may be charged a small fee for the service.
3. Past-due debt owed to a federal agency
Student loans are the most common example of federal agency debts. In fact, millions of people with student loan debt have been referred to TOP since 1986. These individuals will receive a notice of proposed offset before the government takes their refunds to pay the debt. Taxpayers with student loans in default may want to look at options to get out of default.
When a refund offset occurs for a taxpayer who is pursuing student loan rehabilitation, the refund offset doesn't count toward rehabilitation payments. It's considered an involuntary payment.
The U.S. Department of Housing and Urban Development (HUD) is another common source of TOP referrals, mostly for defaulted loans insured by the Federal Housing Administration (FHA). Here's how it works:
Debtors receive a pre-offset notice advising them of their due process rights.
They can request a review, provide proof of bankruptcy, or contact HUD to arrange to repay the debt.
HUD charges a service fee to the debtor for the use of the TOP service.
HUD debtors are notified when offsets occur. They can contact their creditor to discuss alternatives to the offset.
If the taxpayer has past-due debts with more than one agency, TOP pays the agencies in the order they notified the Treasury Department.
4. Past-due state income taxes
In 40 states and the District of Columbia, federal tax refunds can be used to offset past-due, legally enforceable state income tax debts. The taxpayer's federal income tax return must show an address in the state that requested the offset.
In addition, the state must:
Notify the taxpayer by certified mail with return receipt that the state plans to ask for an offset against the federal income tax refund.
Give the taxpayer at least 60 days to show that some or all the state income tax is not past-due or not legally enforceable.
Consider any evidence from the taxpayer in determining that income tax is past-due and legally enforceable.
Satisfy any other requirements to ensure that the taxpayer owes a valid, past-due, legally enforceable state income tax debt.
Show that the state has made all reasonable efforts to collect payment before requesting the offset.
If more than one state agency requests an offset for separate debts, the offsets apply against the taxpayer's refund in the order in which the debts accrued. In addition, state income tax includes any local income tax administered by the chief tax administration agency of a state.
5. Unemployment compensation debt
Sole proprietors, partnerships, corporations, and limited liability companies with employees are eligible for TOP referrals for unpaid unemployment insurance tax debt.
TOP can collect:
Debts owed to states that were incurred as a result of fraud
Unemployment compensation debts incurred as a result of the debtor's failure to report earnings, whether or not the failure constituted fraud
Unpaid employer unemployment insurance tax debt
Taxpayers must file a return for the offset to occur
Sometimes when taxpayers know their refund will be offset, they don't file a return. Their outstanding debt will keep accumulating. And because some types of debt are rarely discharged (such as student loan debt and back child support), taxpayers may benefit from filing a return and allowing the refund to pay down the debt. They may also benefit from exploring repayment alternatives with their creditors to resolve the underlying debt.
The Treasury Department can take refunds that include the federal earned income credit (EIC). That means that taxpayers who file only to receive the EIC (and don't owe any taxes or have any income tax withholding) can still have their refunds offset under this program.
How to find out whether a debt is subject to offset
Not all debts are subject to a tax refund offset. To find out whether the Treasury Department can offset a refund because of a non-federal tax debt, call the Bureau of the Fiscal Service at (800) 304-3107 or (866) 297-0517 for TTY/TDD help. Taxpayers who don't think they owe the debt should contact the agency shown on the Notice of Offset – not the IRS, TOP, or Treasury Department.
There is a relief option for spouses
For taxpayers filing a joint return, if one spouse isn't responsible for the other's debt, the non-debtor spouse can apply to receive his or her portion of the tax refund back from the IRS. The non-debtor spouse would file Form 8379, Injured Spouse Allocation. See "How to protect one spouse's share of a joint tax refund when the IRS can take it" for more information about protecting a non-debtor spouse from tax refund offset.